SUNDAY AUGUST 9 2020.               Newsletter 21.  COVID19
The ninth Sunday after Trinity.         079 038 079 46
Dear friends throughout the world,
How is it for you? REMEMBER, MASKS ARE NOW MANDATORY IN CHURCH (or they were when this was written!!!!!!!).
This newsletter comes to you with the assurance of the prayers and best wishes of many people. In the news there are continual reports of a second spike in the transmission of the virus. Remember to STAY SAFE and do all that you can do to keep others safe. 
This is a special week for many people as they look back across 75 years and remember when the Second World War finally ended. On August 15 we will remember that the war in the Far East was brought to an end and the world turned its face towards peace.
THIS WEEK'S GOSPEL READING: Matthew 14 vv22 – 33
It's a familiar story; a great storm, the disciples in their boat are terrified and in the midst of the danger, Jesus is seen walking on the water. Peter, always ready to get involved, tries to walk towards Jesus who calls for him to come to him. All goes well until the storm whips round Peter, he is afraid and starts to sink. Jesus rescues Peter, they return to the boat and the storm slips away.
So what can we learn from this story. In the midst of the pandemic, when we are urged to try to get back to as normal a life as possible, are you afraid? Are you fearful of the virus, fearful for your family, for going back to work and back to how it was before. Are you anxious to do what you can to support, encourage and help others; but you are afraid?
Fear is a very common emotion. Some people seem to be able to face any challenge or situation that may be thrown at them. Others are overcome with fear and just let the situation roll over them and become immobilised. However it is for you, faith in God's love for the world as revealed through the life of Jesus gives each one of us the promise that we do not face these challenges alone. Yes, we have friends who do what they can to stand with us. Yes, we have family, colleagues and advisors who may try to help. But, in the end it is Jesus who is always there, beckoning you to have courage, to face the storm, because Jesus will not let you fall or fail. 
The words of this hymn may help you:
CHORUS:
Do not be afraid, for I have redeemed you,
I have called you by your name, you are mine.
     When you walk through the waters I'll be with you,
     You will never sink beneath the waves: CHORUS
     When the fire is burning all around you,
     You will never be consumed by the flames: CHORUS
      When the fear of loneliness is looming,
      Then remember I am at your side: CHORUS
      When you dwell in the exile of the stranger,
      Remember you are precious in my eyes: CHORUS
      You are mine O my child, I am your Father,
      And I love you with a perfect love: CHORUS
NEWS FROM FRIENDS AROUND THE WORLD
This week, our new contact in Cyprus, Androulla, has written:
WHAT IS CORONA VIRUS?
Corona Virus, two words that have affected our lives and will stay in the back of our minds for the rest of our lives. It's an invisible virus that not only affects your health, but also affects your mentality and spirituality. It is an enemy that you cannot fight. No matter what you do to protect yourself you still have a feeling of uncertainty.
I believe that the people of Cyprus have coped very well, with the help and support of the Cyprus government. We continue this battle with the help and strength of God. We hope all of this will be over soon and so I will be able to see my family and friends. 
STAY SAFE,
Love from Androulla
Thank you so much, Androulla, may God bless you and your family.
HOLY COMMUNION AT HOME
It is now possible for each of the five Redruth Anglican churches to hold a mid-week service of Holy Communion. Perhaps you do not ready to do this yet, or perhaps you are shielding or being shielded. Whatever your reason, it remains possible for you to sit quietly, light a candle and repeat this prayer in the safety of your home:
A PRAYER IS OFFERED AND BREAD IS EATEN
As the seed falls into the earth and dies to give life to the grain,
As the corn is cut and crushed to make flour,
As the flour is baked and the yeast dies to give life to the dough.
As the bread is broken and eaten to give life to the body.
So Jesus, sitting with the disciples, took bread and broke it and said:
THIS IS MY BODY BROKEN FOR THE WORLD,
Eat the bread and remember Jesus.
xxxxxxxxxxxxxxxxxxxxxxxxxxxxxxxxxxxxxxxxxxxxx
CATCH UP CLUB
This club meets at both the Pencoys Hall and Christchurch Hall. Meetings are held as follows during August, starting on August 3:
PENCOYS HALL: Monday 9am – 12noon, Wednesday 1pm – 4pm
CHRISTCHURCH HALL: Tuesday 9am – 12noon, Friday 9am – 12noon
Numbers are limited to 10, BOOKING IS ESSENTIAL via Fr Peter 079 038 079 46
Activities include: poetry, game making, interviews, design, crafts.
Snacks and drinks provided. NO CHARGE
xxxxxxxxxxxxxxxxxxxxxxxxxxxxxxxxxxxxxxxxxxxxx
LIGHT A CANDLE SUNDAY AT 6.00pm
Wherever this sheet goes, there will be people lighting a candle at 6.00pm, their time.
The lights will burn for those we carry on our hearts and for those whose names have been entrusted to us ……
Mother Shirley, Max, Terry D., Auntie Patti, Donald, David, Rob., Phil., Helen,
Margaret G., Jane, Walt., Catherine, Dawn, Lillian, Mark, Rory, Gemma
RESTING IN PEACE
Bob.
xxxxxxxxxxxxxxxxxxxxxxxxxxxxxxxxxxxxxxxxxxxxx
PRAYERS AND READINGS FOR THE COMING WEEK
SUNDAY AUGUST 9. Trinity 9
"The assembly blessed the Lord, they bowed their heads before the Lord"
1Chronicles 29 vv20
PRAYER: Eternal God, I seek to fully recognise the love that you poured into the world through Jesus. Such love is difficult for me to understand, but I bow before you and accept that I am loved.
PRAY FOR THOSE WHOM YOU LOVE, BUT ALSO FOR THOSE WHOM YOU HAVE DIFFICULTY LOVING. WE PRAY FOR THOSE WHO NOW FACE THE ENDING OF A RELATIONSHIP, PERHAPS BY DEATH, DISTANCE OR DIVORCE, AND WHO MUST FACE THE FUTURE ALONE.
MONDAY AUGUST 10. Laurence. Deacon. Martyr. 258
"People will seek to harm you because they have not known me, or the Father's love"
John 16 vv3
PRAYER: Suffering Servant, go before me so that your light may shine on those who struggle. Help me to reach out to them through the darkness, and to understand their journey through life.
PRAY FOR THOSE WHO REMAIN AS DEACONS AS THEIR ORDINATION TO THE PRIESTHOOD REMAINS POSTPONED. WE PRAY FOR THOSE WHO MUST WAIT TO BE MADE A DEACON.
TUESDAY AUGUST 11. Clare of Assisi. Founder. 1253
"Remember, O earth, remember with awe in the presence of the Lord, remember all the Lord has done for you". Psalm 114 vv7
PRAYER: We give thanks for the life of Saint Clare, who could do no more than to give her life in God's service. As we remember her, may we give our lives to you, knowing that the little we bring may be transformed into greatness through your love.
PRAY FOR THOSE WHO OFFER THEIR LIVES THROUGH THE RELIGIOUS LIFE. WE PRAY FOR THOSE WHOSE SERVICE TO YOU IS OFFERED OUTSIDE OF THE CLOISTER THAT THEY MAY HAVE THE STRENGTH TO CONTINUE.
SOME WORDS FROM SAINT. CLARE:
"Gaze upon Christ, consider him, contemplate him, and desire to imitate him"
"Go forth without fear, for he who created you has made you holy, has always protected you, and loves you"
"Blessed be you my God, for having created me"
WEDNESDAY AUGUST 12
"I have much more to tell you, but you cannot bear it now" John 16 vv12
PRAYER: Timeless and immortal God, you forgive us every time we fail and deny you. Help us to understand the greatness of your love for me and for all people. Help me to bring that same love into the lives of others.
PRAY FOR THOSE WHOSE WORK BRINGS THEM INTO CONFLICT WITH OTHERS, ESPECIALLY FOR THOSE WHO WORK IN PRISONS, COURTS AND ALL PARTS OF THE JUSTICE SYSTEM
THURSDAY AUGUST 13. Jeremy Taylor. Bishop. Teacher. 1667
"Give yourself to the Lord, draw close to God's holy places and serve the Lord with gladness" 2Chronicles 30 vv8
PRAYER: Loving God, as we draw closer to you, let me see your face, your love and your life in all the places I visit and in all the people I meet.
PRAY FOR BISHOPS PHILIP AND HUGH AS THEY SEEK TO LEAD THE DIOCESE INTO A POST-PANDEMIC WORLD. PRAY FOR ARCHDEACON AUDREY AND HER FAMILY AS SHE SEEKS A NEW PATHWAY IN THE NORTH.
FRIDAY AUGUST 14. Maximillian Kolbe. Friar. Martyr. 1941
"I will see you again, and your hearts will rejoice, and no-one shall take that joy from you" John 16 vv22
PRAYER: Merciful God, in a world where so much violence, oppression and injustice continues, strengthen us to remember those who struggled and suffered for their faith. Help us not to give up proclaiming your love for the world despite opposition and prejudice, that we may stand with the saints who have gone before and who never tired of doing good.
PRAY FOR THOSE WHO TODAY WILL DO HARM AND HURT TO OTHERS, THAT AS THEIR ACTIONS DRAW CLOSE TO THOSE WHO SUFFER, YOUR LIGHT WILL SURROUND THEM, AND THEY WILL SEE THE PATHWAY OF YOUR LOVE.
SATURDAY AUGUST 15. The Blessed Virgin Mary / 75th anniversary of VJ Day
"My soul proclaims the greatness of the Lord: my spirit rejoices in God my Saviour"
Luke 1 vv46 / The Magnificat
PRAYER: (the closing prayer from the Angelus, the great chant that remembers the
Annunciation)
We beseech thee O Lord,
To pour your grace into our hearts;
That as we have known the incarnation of your Son Jesus Christ,
By the message of an angel,
So by his cross and passion,
We may be brought to the glory of his resurrection;
Through Jesus Christ our Lord. AMEN
PRAY FOR ALL THOSE WHO CONTINUE TO STRUGGLE WITH INJURIES, MEMORIES AND GRIEF SEVENTY FIVE YEARS AFTER THE ENDING OF THE WAR IN THE FAR EAST. PRAY ALSO FOR THOSE WHO CONTINUE TO LIFE, WORK AND SERVE IN PLAYS WHERE VIOLENCE, ETHNIC CLEANSING AND PREJUDICE CONTINUE TO BE FOUND.
SUNDAY AUGUST 16. The tenth Sunday after Trinity (welcome home Mike & Pie)
"I am not alone, because the Father is with me"
STOP PRESS:
THE BISHOP OF TRURO HAS LAUNCHED AN APPEAL FOR FUNDS TO SUPPORT LEBANON. BISHOP PHILIP HAS A LINK WITH A CHURCH WHICH WILL DIRECT DONATIONS WHERE IT WILL DO MOST GOOD. THE SEPTEMBER FIRST SUNDAY EVENT WILL ALSO SUPPORT THE PEOPLE OF LEBANON.
xxxxxxxxxxxxxxxxxxxxxxxxxxxxxxxxxxxxxxxxxxxx
As we remember that day, we must also remember that for many people fighting, violence and oppression remains at the centre of their lives. It is easy to think that there is nothing an individual can do in the face of such distress, suffering and injustice. But, each one of us can bring peace and hope where we are and to the people we meet day by day. Our words and actions can change lives, can bring light or pain, hope or distress. TODAY, MAY EACH ONE OF US CHOOSE HOPE.
With very best wishes, love and prayers from …..
The Rev'd Carole Holmes, Methodist Superintendent for Hayle, Camborne & Redruth
The Rev'd Caspar Bush, Rector of Redruth
Pastor Jenny Lockwood, Methodist Chapel, Lanner
Reader Jim Seth, Chaplain to the Cornish Readers
Lives Remembered This Week
LIVES REMEMBERED THIS WEEK
LAURENCE.  Deacon.  Martyr.  258.         Monday August 10
Laurence was one of the seven deacons of Rome who were martyred in the reign of Emperor Valerian. Born in Valencia on December 31 225 Laurence was the first of the seven deacons to be ordained and hence is termed 'Archdeacon' having responsibility for the cathedral treasures and the distribution of alms to the poor. When a period of persecution began, Laurence gave away all the treasures. He was arrested and died a martyr. 
CLARE OF ASSISI.  Founder of the Poor Clares.  1253,.         Tuesday August 11
Clare was born in 1194 in the same village as Francis of Assisi. His influence encouraged Clare to abandon her wealthy background, to embrace God and to live a life of poverty. The order she founded and which her mother and sister joined was known as The Second Order of Saint Francis and later as The Poor Clares. Her austere lifestyle resulted in ill health  and one Christmas when she was too ill to attend church her legend tells that she saw the nativity crib on her cell wall and heard singing. For forty years Clare lived a life of poverty but never wavered in her belief that God had called to her chosen lifestyle. A second legend tells of how she held a monstrance in front of an invading army, who then ran away. She is the patron of embroiderers and television (due to the Christmas vision on her wall). Her emblem is a lily and a monstrance. 
JEREMY TAYLOR.  Bishop.  Teacher.  1667.         Thursday August 13
Born in 1613, Bishop Jeremy Taylor, Bishop of Down & Connor in the Church of Ireland was a great prose writer in the Protectorate of Oliver Cromwell. He published many books including books of sermons, two volumes on how to live and how to die, at least one prayer book, and teaching concerning the Eucharist. He became the Chaplain of King Charles 1 and hence was imprisoned several times and at least once in The Tower. After the restoration of the monarchy he was consecrated as bishop. He was a man of great learning and intellect and through his marriage to 
Phoebe Langsdale had six children. He was always suspected of having an involvement with the gunpowder plot which he strenuously denied. 
MAXIMILLIAN KOLBE.  Friar.  Martyr.  1941.         Friday August 14
Born on January 8 1894, Raymund Kolbe died in Auschwitz on August 14 1941. He was canonised on October 10 1982 by Pope John Paul II. He is the patron of prisoners, journalists and amateur radio operators. Kolbe was a Franciscan Friar who took the name Maximillian Maria due to his devotion to Mary. He was active as an ordained priest in China and Japan. Indeed, in Japan he caused a monastery to be built on a mountainside which the Shinto faith believed was out of harmony with nature. When the Atom bomb destroyed Hiroshima the monastery survived, unlike the cathedral on the other side of the mountain which took the full blast. He was active in the Second World War and published anti-nazi literature as well as sheltering refugees. He was arrested by the Gestapo and sent to Auschwitz as prisoner 16670. In an attempt to protect a prisoner from death Kolbe offered his own life. He died in a starvation bunker having brought hope to others in that place. He was cremated on August 15, the Festival of Mary to whom he had such a great devotion.
FESTIVAL OF THE BLESSED VIRGIN MARY
75th anniversary of VJ Day.                                    Saturday August 15
Little is known of Mary's early life. Her parentage is found only in the apocryphal Gospel of James, written in the second century. The Christmas story tells of her being chosen by God to be the mother of Jesus. The Easter story tells of her vigil at the cross. She is referred to at the moment of the Ascension, Pentecost and is present at other significant moments in Jesus' life. The manner of her death is a matter of faith and August 15 marks that moment, however it happened. Her place in the litany of saints is second only to the three persons of the Trinity. She is the patron of mothers and her emblem is a lily, a crown and a blue robe.   
SHEILA'S POETRY
You may remember a poem written by Sheila, published in an earlier newsletter. It was called "The Dream". Here are two more, written some time ago, The first one, written by a son to his mother might give us a glimpse into a prophetic moment between Mary and Jesus. The second poem reminds that when God calls, the resources will be given to make that call possible and a reality.
Sheiks writes: "Sometimes, a revelation, can bring tears, as well as joy. This happened, to my son, when he was just, a little boy".
My son, when young, came up to me,
With teardrops, welling in his eyes;
An incident had caused him pain,
His sorrow, he could not, disguise.
I asked him what had happened,
Broke a toy, or had a fall?
No! He led my by the hand,
To see a picture, on his wall.
The picture, was of Christ, upon the cross,
He had beside his bed;
And, having learned to read
The words beneath the picture, he had read;
The words were: I asked Jesus,
"How much do you love me?"
"This much" he answered,
And stretched out his arms
And died.
My son then cried. 10 2 92
…………………………………………………………………………
GOD'S CHOICE
God chose his first disciples,
At a time in history, when
Women's role in life,
Was as subordinate to men.
Since then it has been proved,
Through all the hours of greatest need,
The roles in life, for women, changed,
In thought, and word, and deed.
Now in more enlightened times,
All walks of life, we see,
It's qualities that matter most,
Not whether, HE or SHE.
A man says "I was called by God"
A woman says "I too"
How are we to say,
Her claim is wrong, but his is true?
God knows who he is looking for,
It's not for us to say,
The shepherds of his sheep, he'll choose,
To guide the flock, his way.
All those who know they're called by God, to serve,
His priests to be,
If God minds not, that they are men or women,
How can we? 1 1 92
……………………………………………………………………….
Thank you Sheila, keep, writing!!!
SADAKO AND THE THOUSAND PAPER CRANES
Last week, on August 6, the Festival of the Transfiguration, we remembered the moment when the atom bomb was dropped on Hiroshima / Nagasaki. This week with Bishop Hugh, on Saturday August 15 at 6.00pm., we will remember the moment when the war in the Far East came to an end, seventy five years ago. Perhaps we should ask ourselves why VE Day was remembered with national acclaim and why most people don't know the significance of August 15.
This story, SADAKO AND THE THOUSAND PAPER CRANES is beautiful and you can discover how to make your own paper crane, a symbol of peace, on YouTube.
Sadako was in Hiroshima when the bomb fell. Later she was diagnosed with leukaemia as a result of the radiation from the explosion. Sadako was dying, and her friend told her of a Japanese legend which said that anyone who folded a thousand origami cranes would be granted one wish. Sadako's one wish would be to live, to be well, so that she could be well and be in her school's running team.
Sadako managed to fold 644 origami cranes before she died on October 25, 1955. Her family and friends folded the remaining 356 cranes and the total of 1,000 were with her as she was laid to rest.
After Sadako's death money was collected for a memorial to Sadako and to all the children who had died as a result of the atomic explosion. This memorial, a statue of Sadako was unveiled in 1999 in the Hiroshima Memorial Peace Park. At the base of the statue are the words:
THIS IS OUR CRY. THIS IS OUR PRAYER, PEACE ON EARTH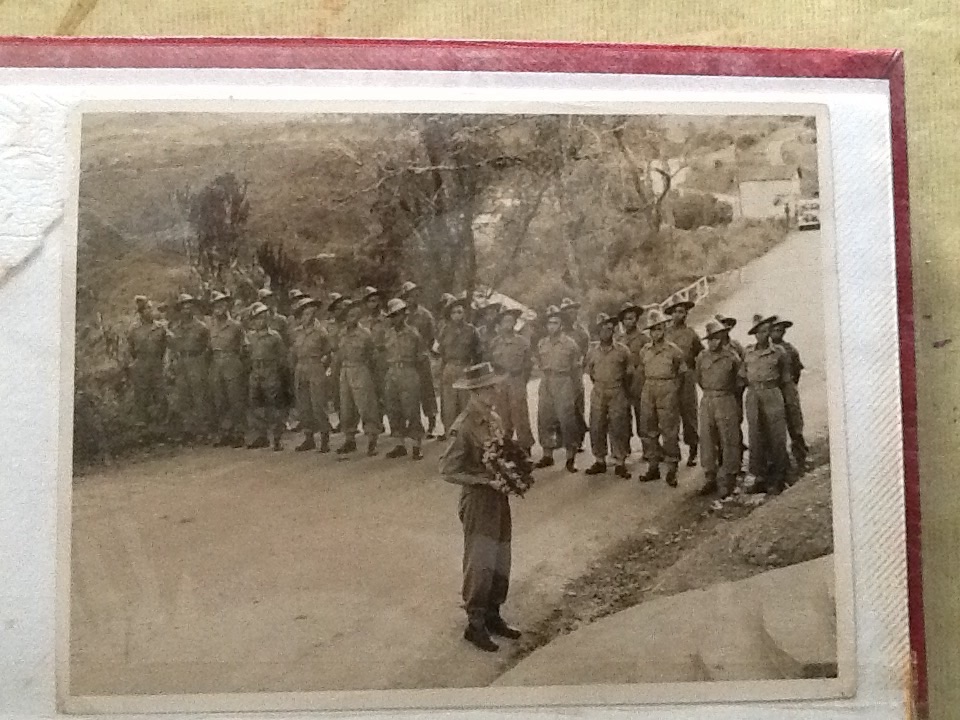 SUSAN, A RESIDENT OF FOUR LANES HAS WRITTEN DOWN SOME MEMORIES FROM HER FATHER WHO SERVED IN BURMA
My dad, Charles Glenwood Williams, served in Burma during the Second World War.
He lived at South Count House, near Carnkie, Redruth. My dad was working in Wales when he joined up, hence, he joined a Welsh regiment.
Dad did not talk about the war very much. I can remember him having Malaria when I was small, and he used to cry out in the night. My mum remembered that she woke up one night and dad was trying to strangle her, thinking she was the enemy.
Dad would talk about the monsoons saying that you got soaking wet, and your clothes dried whilst you were wearing them. Dad fought quite a bit in the jungle with enemy snipers above them. He was always grateful that the Gurkhas joined the British army.
A treasured memory for dad was seeing Vera Lynn and he would say "she was the first woman I ever saw in trousers". Dad's regiment was known as the
Fourteenth Army and they were commanded by Lt. Col. William Slim. They were also know as "the forgotten army".
…………………………………………
Susan has photographs of her father standing beside a stone memorial at the site of the Battle of Kohima where thousands, from both sides were killed. The siege of Kohima began in March 1944 and ended with enemy defeat in June 1944. It was essential that the town of Kohima, thirty miles into India from its border with Burma, was held. It was, and the enemy advance into India was halted. The battle gave rise to the Kohima Epitaph:
WHEN YOU GO HOME, TELL THEM OF US AND SAY: "FOR YOUR TOMORROW WE GAVE OUR TODAY".
xxxxxxxxxxxxxxxxxxxxxxxxxxxxxxxxxxxxxxxxxxxxx
Well, it's goodbye from us, and it's goodbye from them. Sorry the photos are all over the place; just match them to the article!!!!!!
A SHINTO PRAYER FOR PEACE
The people living across the ocean that surrounds us, are, I believe, all our brothers
and sisters.
So why are there constant troubles in this world?
Why do winds and waves rise in the ocean?
I wish that the wind would soon blow away all the clouds which are hanging over the
tops of the mountains.
STAY SAFE,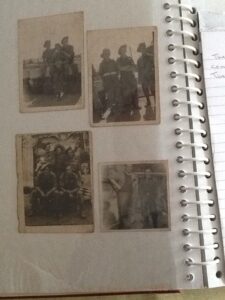 Three photos from Susan. The troops are at the Kohima Memorial The Blessed Virgin Mary with three peace cranes