The church of england in & Around Redruth
sharing God's Welcome & Growing disciples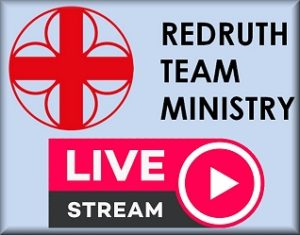 Each Sunday morning at 10.30am we live stream a service via the Zoom platform. Please click on the image above to join the stream and worship with us.
Welcome
On behalf of Redruth Team Ministry, welcome to our website.
We are a group of five Church of England churches in and around Redruth. As Christians we are trying to work out our faith as followers of Jesus Christ, and to live it out sharing the love of God in practical ways with the people of our communities.
Whether you're looking for details of our services so you can worship God with us, or looking for details of how to book a wedding or christening, we pray that God would bless you and help you understand how much God loves you, and wants to be part of your life's journey, however up or down that journey may be.
St Andrew Redruth: Revd Caspar Bush
casparbush@gmail.com
01209 216958
St Euny: Revd Deb Grigg
deborahgrigg@hotmail.com
07742 865618
Treleigh: Revd Graham Adamson
graham@redruthchurch.org.uk
01209 315965
Pencoys and Lanner: Fr Peter Fellows
baptism66@gmail.com
07903 807946
COVID-19 CORONAVIRUS
Church services update.
From week beginning 6th September 2020 we resumed Sunday services in our 5 Redruth benefice churches. For now, our Sunday services start at 10.30am as follows:
1st and 3rd Sundays: Services at St Andrew Redruth, St Stephen Treleigh and St Andrew Pencoys / Four Lanes.
2nd and 4th Sundays: Services at Christchurch Lanner and St Euny.
Please note that on each 3rd Sunday there will be 10.30am Service of the Word at Four Lanes Methodist Chapel and Holy Communion at St Andrew Pencoys will be at 6pm.
Please bring a face-covering with you and give your contact details when you arrive, following the social distancing guidance.
Our live streamed Zoom services on this website continue every Sunday at 10.30am.
Mid week Holy Communion also takes place in the following churches at these times:
St Euny: Tuesdays 12.30pm
St Andrew Redruth: Wednesdays 10am
Christchurch Lanner: Wednesdays 11am
St Andrew Pencoys: Wednesdays 6pm
St Stephen Treleigh: Thursdays 1.30pm
Our churches are also open for private prayer as follows:
St Andrew Redruth: Sundays & Wednesdays 9am to 4pm
St Euny: Mondays 2pm to 4pm & Wednesdays 2pm to 4pm (open café project)
Christchurch Lanner: Mondays  & Fridays 2pm to 4pm
St Andrew Pencoys: Tuesdays & Saturdays 2pm to 4pm
St Stephen Treleigh: Thursdays 2pm to 4pm
"Ensuring that children and young people as well as adults are kept safe whilst in our care is an integral part of our church life.
If you have any concerns about safeguarding in the Benefice of Redruth with Lanner and Treleigh, the lead Parish Safeguarding Co-ordinator is Jim, who can be contacted on 07597 202551. Alternatively please use the email address above and one of us will get back to you. 
In the Diocese: Sarah Acraman Diocesan Safeguarding Adviser, 01872 274351
Out of Hours for after 5pm and weekends: 01208 251300
In emergency situation:
Local Authority Children's Social Care: 0300 123 1116
Local Authority Adult's Social Care: 0300 1234131
To find out more about safeguarding in our churches go to: https://redruthchurch.org.uk/safeguarding/