The church of england in & Around Redruth
sharing God's Welcome & Growing disciples
On behalf of Redruth Team Ministry, welcome to our website.
We are a group of five Church of England churches in and around Redruth. As Christians we are trying to work out our faith as followers of Jesus Christ, and to live it out sharing the love of God in practical ways with the people of our communities.
Whether you're looking for details of our services so you can worship God with us, or looking for details of how to book a wedding or christening, we pray that God would bless you and help you understand how much God loves you, and wants to be part of your life's journey, however up or down that journey may be.
Revd. Caspar Bush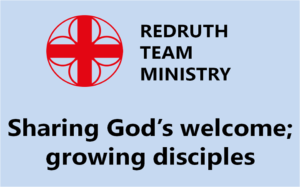 "Ensuring that children and young people as well as adults are kept safe whilst in our care is an integral part of our church life.
If you have any concerns about safeguarding please contact the safeguarding team In the Benefice of Redruth with Lanner and Treleigh  using the email address above or telephoning the office on the number provided and one of us will get back to you. 
Should it be more urgent or of a confidential nature then the lead Parish Safeguarding Co-ordinator is Jim  who can be contacted on 07597 202551
In the Diocese: Sarah Acraman Diocesan Safeguarding Adviser, 01872 274351
Out of Hours for after 5pm and weekends: 01208 251300
In emergency situation:
Local Authority Children's Social Care: 0300 123 1116
Local Authority Adult's Social Care: 0300 1234131
To find out more about safeguarding in our churches go to: https://redruthchurch.org.uk/safeguarding/